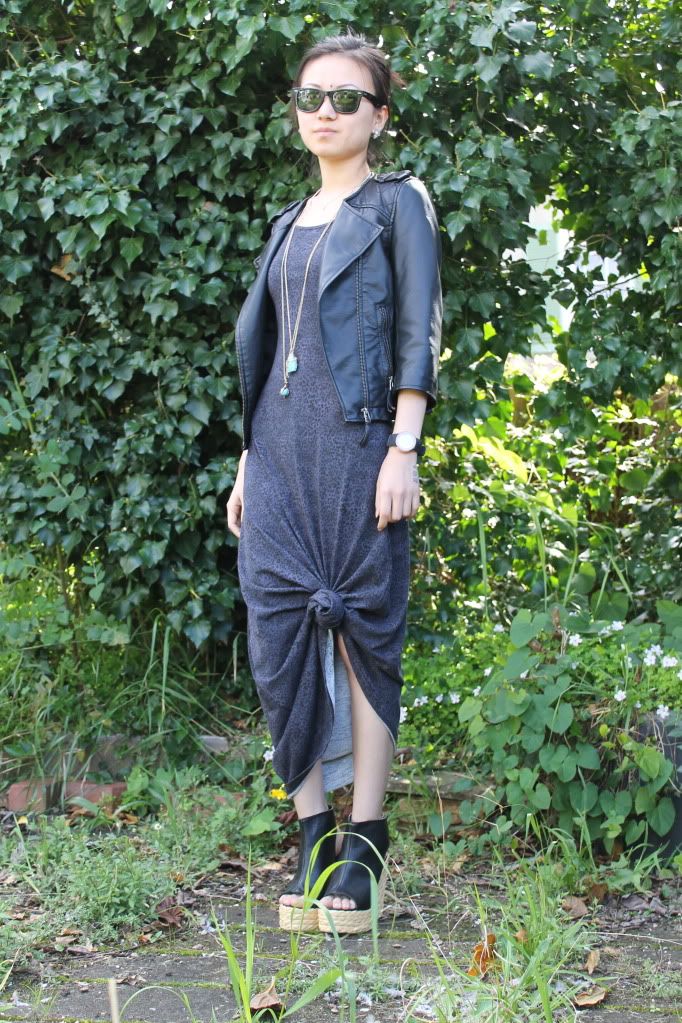 These past few days have been really busy for me, trying to finish assignments and staying at Uni till 2am in the morning continuously. I have been practically living at Uni and seem to spend more time here than at home. This week has been the busiest week for this semester and the sun decides to show right when I am stuck in front off a computer 24/7. Its been amazingly warm that I don't remember it being like this for a very long time. Ironic that the weather is nice when I am forced to stay inside with the overwhelming work load.
Anyway, this is the dress that I bought a few weeks ago from Factorie for $4.95. Sweet Deal. This is one of the few maxi-dresses that fits my height. I decided to tie the knot (pun not intended) to give it a bit of "different" look and it doesn't get in the way when I'm running up and down the stairs in the library looking for the right book. Don't quite know how to describe this style. I decided to top it up with my leather jacket from Dotti which I absolutely love. To be honest, I think this is the only quarter-sleeved jacket that I actually wear and love so dearly. The shoes are a gift from Jessica Buurman, its on sale at the moment so you should definitely check her website out!

I finally have an Twitter account but I'm still at the learning/ frustration stage and I don't know why I'm mentioning this. If any of you lovelies what to add me its @RaindropsofRed. I would have put the "follow" tab to make everyone's life much easier but I don't have the intellectual resources to pull through at this stage.

Ummm, bit wordy ain't it?